Design is the art of making things visible. Graphic design, which falls under this category, is one of the most important aspects in any business. It communicates visually to its customers. Inspiring and impressive graphic design can impact your conversion rates by giving you a competitive edge over other businesses who are not as aesthetically pleasing as yours. In this blog post, Aquatiser will explore different ways to make your website's graphics more compelling and interesting!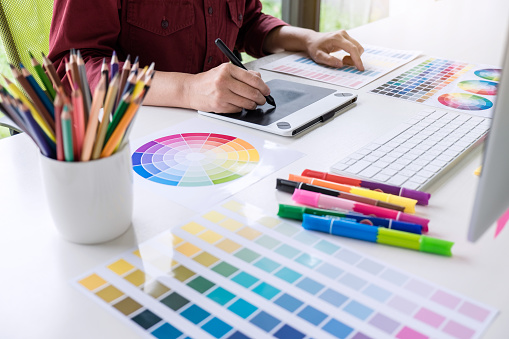 Design Inspiration
It is important to stay up-to-date with the latest design trends, and graphic designers play an essential role in this process. Inspiration can come from anywhere! Whether you are looking at a magazine or watching TV, keep your eyes open for anything that catches your attention. The next time you see something appealing, jot it down on a notepad. So that you do not forget about it when designing later on. If nothing else works for inspiration, browse through some of these websites for ideas: Dribbble , Behance , Pinterest  and Unsplash . Notice how each one has their own unique style? This will help guide you towards finding what kind of design elements work best given your industry.
Photo Inspiration
There are many free photos online that you can use in your design. Try Unsplash , Pexels and Pixabay  for a variety of options to choose from. If you prefer more control over the photo aspect, check out Adobe Stock or Shutterstock for some premium-quality images! A great way to find photos is through Google image search . Choose "upload an image" and then browse for whatever type of photo it may be (i.e.: landscape). Another idea is creating your own photo collage ! This will give your designs a unique edge if no other competitor has done. So before just make sure that you have permission first! One very important thing to keep in mind when using any kind of photo is to make sure that it fits the context of your design.
Font Inspiration
The different fonts you choose in a graphic design can alter its overall look and feel. So be careful when doing this step! Try looking through Adobe Typekit or Google Fonts for various options depending on what style guide you are following. If nothing else works, use popular ones like Helvetica , Arial or Open Sans . Remember: if nothing seems right at first, keep trying until you find something that feels just right. There will always be better alternatives out there waiting for you to discover them!
Design Inspiration Boards 
It could also help inspire others if you share some of your designs with other people by using an online inspiration board . This is very simple to do and it will allow you to compare your designs with those of others. It can be a great learning experience. Inspiration boards are also helpful for getting feedback from other people if you have no idea what direction to take in terms of the look and feel of your design.
Inspiring Design Elements
Now that we've looked at ways to get inspired when designing. Let's talk about some elements that make up decent graphic design. One thing that I would suggest avoiding is using too many different fonts together. Because this may cause confusion for readers (two or three maximum). Make sure everything is readable so try sticking with traditional ones like Arial , Helvetica and Times New Roman . Also, keep your design consistent with colors that match throughout the whole page.
You can also add some visual interest to your designs by using various elements such as text blocks , icons  and images ! It is a good idea to use these sparingly so they don't lose their effect. You want them to be noticeable when necessary but not overbearing. When it comes down to actually designing something on paper or in Photoshop/Illustrator, always start out with rough sketches (pencil-on-paper). Because this will allow you see how things work together before committing time into creating a final product! Inspiration boards are helpful for keeping track of all your ideas along the way too!
Design Inspiration Boards in a Nutshell
I hope this article has allowed you to discover some new ways of becoming more inspired with your designs and that it gave you ideas for creating your own unique touch. Inspiration is all around us. But we just have to keep our eyes open, so why not take advantage of the many great resources available online? Remember: when inspiration isn't coming easily (or at least not enough), look harder until something catches your eye. Then do what's necessary to make it work . Good luck on designing and remember to keep trying if nothing seems right at first . Because there will always be better alternatives out there  sometimes they're just waiting for you  to find them. Inspiration boards are a great tool for organizing all your ideas and finally putting them into practice!